The Phoenix Tennis Center:
The "Phoenix Tennis Center" has been around since 1969. If you look at this photo and you had been around the Phoenix Arizona area since the 1980's then you should recognize this photo. Image a lined right( you see the flag ).  You remember how the entrance was… now they have grown to be a very popular location in the tennis court industry. Tons of High School's come here to play in tournament games or even normal season games. Now when you come to enjoy the tennis courts you have a new entrance ( the next images show the 2020 Phoenix Tennis Center's entrance ) They are trying hard to provide the best amenity to our young tennis kids in their high school years and yes, even us older tennis players!
Phoenix Tennis Center
Now in the 2020 year we see a totally new way to walk in… ( the next image you see is the new 2020 Phoenix Tennis Centers entrance )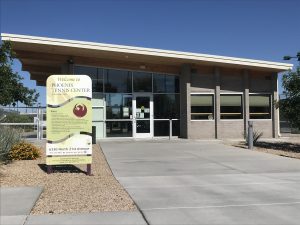 I have to say I love what they are doing and the courts are top of the line!!!!
Keep up the great work you guys!.
Professional Tennis Lessons
Professional tennis lessons at the Phoenix Tennis Center. They offer many levels of play and they can help with your skill level no matter what is!!
No tennis ladder program reported to be used here.
Water fountain on site.
No cold water provided
Tennis Lessons Phoenix
Phoenix Tennis Courts – 25
Youth Tennis lessons provided
Kid Tennis lessons provided
Tennis Courts Phoenix – 25
Tennis Lessons for Kids near me (If you live within area code 85015 )
Professional Tennis Coach on Site
Best league tennis teams for the last few years (2014 to 2020) and going to guess the teams to beat in 2021!)
Group tennis lessons Phoenix – Yes
Adult tennis lessons Phoenix – Yes